Etiquette in Canada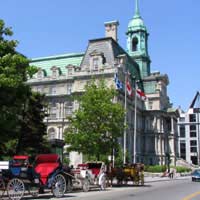 Canada is well known for its fusion of French and English speaking regions spanning across a vast and scenic land. However, you might be surprised to learn that Canada is in fact one of the most culturally diverse nations on the planet. The most densely populated multicultural hotspots tend to be the major cities in Canada, including Montreal, Toronto, and Vancouver.Here you will find many communities descended from Europe and South Asia, with Quebec host to many Francophile Tunisian, Moroccan and Haitian immigrants. There are also still a number of indigenous populations. As with other countries that embrace multiculturalism, many of the cultural customs and etiquette inherent to these communities are still retained.
Tolerance
Because of this widespread diversity, like the Australians, Canadians tend to be quite tolerant and egalitarian in nature. Authority is usually gauged against responsibility, rather than class, financial status or ethnic background. So explicit displays and boasting regarding these matters are generally frowned upon in Canada.
Canadians are also widely thought of as polite, down-to-earth and considerate people. They are very proud of this association, so it is considered good etiquette to mirror these manners when visiting Canada. Mistaking or assuming that Canadians are American is one faux pas that you should really make an effort to avoid. Although the two countries have many similarities, they have a number of inherently different histories and customs. It would be good etiquette to make sure that you are aware of such diversity between the two, such as recognising regional accents.
You might also notice that Canadians regularly say 'please' and 'thank you' when others may not feel the need. Therefore you should make sure that you are prepared to readily express such pleasantries when in Canada.
Canadians are open to a good debate and discussion, and appreciate humour. However, boisterous and aggressive conduct is generally not tolerated, with the exception of on the ice hockey rink!
Languages
Although up to 100 languages are spoken in Canada, the two main languages remain French and English. Don't make the mistake of thinking that everybody speaks English. Quebec is almost exclusively French speaking, so if travelling to or through this region, it is good manners to at least attempt to use the language. Alternatively, you could arrange to take along a translator. However, as long as you are seen to try and speak a few phrases, you shouldn't offend anyone. Many Canadians are bilingual and will readily switch to the language most pertinent to the social situation or the native speaker, once a few verbal exchanges have taken place. It is also thought to be quite rude to speak loudly in a foreign tongue, unless you happen to be in large groups that speak the language.
Salutations
Like the British, Canadians are thought to be quite modest and reserved when making introductions for the first time. When meeting, a firm handshake is the best option. Try to avoid being overly familiar and making too much body contact, such as hugging or back slapping. This is usually set-aside for close friends and family. Generally you will find that most Canadians are very affable, polite and hospitable. If you retain a friendly, patient and courteous manner whilst in Canada, you should expect a satisfying and enjoyable visit.
Reader Comments
I'd just like to draw attention to the "Many Canadians are bilingual" comment, and the focus on Quebec and French. First, the province of New Brunswick (Quebec's neighbour to the East) is Canada's only officially bi-lingual province thanks to a large Acadian population, with the percentage of native french speakers rising the closer you get to Quebec.
Secondly, while a large number of Canadians are bi-lingual in French in English, this number has been in decline, and now the majority of fluent French/English speakers are located in Quebec, New Brunswick and the adjacent areas in other provinces, including Canada's capital Ottawa.
I should also point out that, as Canada is the world's second largest country, regional etiquette may vary greatly, such as what is acceptable in Montreal, which is a more relaxed, easy going place, may be seen as incredibly rude in Toronto, which is generally more... orderly, for lack of a better word.
Also I would add that tipping is customary usually 10% poor service, 15% regular, 20% good service or fine dining.
You might also like...
I live on the West Coast of Canada and have never heard of what Christine is speaking of, regarding shaking hands with someone of First Nations decent. Shaking someone's hand has nothing to do with cultural background in day to day life and a "friendly" handshake is what is polite during an introduction.
Ashley
- 26-Feb-18 @ 11:52 PM
I'm in Vancouver now, and have been informed that when shaking hands with someone of First Nations descent, it is rude to give a 'firm handshake.'A firm handshake is seen as boasting and agressive, but meeting soft hands gently palm to palm (thumb in it's usual handshake position), without any squeezing, is a friendly and respectful way to meet. This might just be a West Coast tradition.
Christine
- 13-Mar-11 @ 1:34 AM