Etiquette in The United Arab Emirates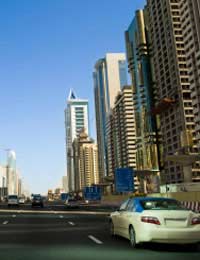 The United Arab Emirates (UAE) is a federation of seven Middle Eastern 'sheikhdoms' or states, which borders Saudi Arabia and Oman. Located on the Persian Gulf, the UAE is recognised by for its hot climate, beautiful beaches, oases, mountain ranges and duty-free shopping opportunities.
Business travellers are often very familiar with the UAE as one of the most developed and highly industrialised nations on the planet.
Whatever your reason for visiting the UAE, to make the best of your stay it's a great idea to be knowledgeable and aware of the proper etiquette when travelling to this country.
Religion
The vast proportion - over 80% - of the population of the UAE is Muslim, and as with many countries, religion plays an important part in shaping local customs and etiquette. The UAE is generally a very tolerant society, realising the wants and needs of tourists and travellers from different cultures, backgrounds and other faiths.
Although many Muslims will not drink alcohol, it is available for consumption in restaurants and somewhat newer introduction of nightclubs.
If you decide to drink alcohol in the UAE, you should try to drink moderately. Drunken, outlandish behaviour is seen as extremely poor etiquette, especially in public places. Any unreasonable behaviour will be dealt with very quickly, and you may be subject to a type of public order offence.
Meeting Etiquette
UAE citizens are well renowned for their politeness, particularly between the different sexes, so it is therefore important that you are attributed with the same quality. In more formal situations, you may be greeted with the phrase "salaam aleikum", which translates as "peace be upon you". The proper etiquette would be to reply with "aleikum assalaam", which means "and on you peace".
You should always make a point of greeting each man in the room individually, starting of course with the host. For men, handshakes are the most common form of greeting. However, although a firm handshake is commonplace and seen as a sign of friendliness and trust in the West, in the UAE a handshake is more genteel.
A quick light grasping of hands and eye contact with a smile tends to suffice. Men should not shake hands with women unless the woman initiates the handshake. In more relaxed circumstances, women may kiss each other on the cheek.
It is extremely important to remember that you should only ever shake hands with your right hand. The left hand is considered unclean, as traditionally it is thought to be used for more unsanitary purposes! Therefore, whether you're shaking hands, eating, offering or taking something, the proper etiquette is to always use your right hand only.
Sitting
You may not realise that the way you sit can be interpreted as rude! Try not to slouch, with your feet planted directly onto the floor so as not to show the soles of your shoes. Crossing your legs and pointing your feet at someone else in the room is very bad etiquette.
Dress Sense
If travelling as a tourist, unless in a hotel resort, in public you should make an effort to dress moderately. For men this means avoiding walking around topless, as well as avoiding wearing sleeveless t-shirts and shorts. Try to keep your shoulders and back covered up. Although the climate is generally hot and dry, wearing long cotton trousers will probably be a lot more comfortable than you might think! Loose-fitting T-shirts and short or long sleeve shirts are also generally acceptable.
For women, the proper etiquette is to try and cover up as much as you can. Skimpy tops and short skirts are not very appropriate - it is best to at least cover your shoulders and the tops of your arms, and in public places loose-fitting trousers or a long skirt are also acceptable.
In both cases, dressing conservatively for a business meeting is the norm - business suits being the obvious solution. Women should again avoid skirts or low-cut tops, and instead again opt for loose-fitting trousers, or longer skirts. If you intend on visiting a mosque, women in particular should dress very modestly, taking care to cover their heads, arms and legs.
Again men should make sure that the tops of the arms, back and shoulders are covered. Men wearing shorts will probably not be permitted to enter a mosque, so make sure that you're wearing appropriate trousers. Remember that the proper etiquette is to remove your shoes before you enter the mosque - not doing so would be regarded as extremely rude, offensive and ignorant.
If you remember to adhere to these simple tips, the chances are that you'll have a trouble-free and enjoyable stay in the UAE.
You might also like...
I am looking for someone to teach etiquette and protocol in al ainfor a group of girls with the age of 7 till 12 years old. I wish you can support me in finding the proper trainer at the earliest possible. my contact number is 00971 50 741 0161 . I hope to hear from you soon.
wafaa
- 11-Jan-16 @ 7:21 AM
thanks, im doing a report on uae etiquitte and this really helped for research!
Showbowen
- 7-Jan-13 @ 10:54 PM