Etiquette in Argentina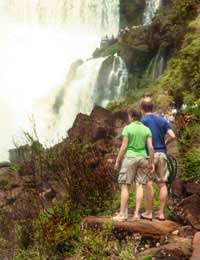 Relationships are extremely important to Argentines and this extends into their social and business practices. Argentina is also a very family-orientated nation with a particular emphasis on the extended family. For this reason, in line with their social customs, it is good etiquette to treat the elderly with the utmost respect and courtesy in Argentina. You should almost always greet the most senior or elderly person present first.
Introductions, Punctuality and Etiquette
If you are being introduced to someone new in Argentina, or into a large group, you should allow a mutual friend or third party to make the introductions for you. Argentines are keen to build associations and relationships, and like being introduced by a third party signifies trust and a good 'referral'. Argentines admire formality in etiquette, and will readily use the Spanish titles of 'professor', 'doctor' and 'engineer' when making introductions or addressing each other.As far as an Argentine is concerned, it's custom that the way in which you dress will speak volumes. For this reason it's always best to dress relatively conservatively if you want to make a good impression. Presentation is vitally important, and you will be judged partly on your efforts.Argentines may also be regarded as quite reserved compared to their Latin American counterparts, and at times may seem fairly allusive or distant. It's simply their culture; do not interpret this as coldness or rudeness, as Argentines are keen to not cause any offence, and may just be being cautious.
You should also be aware that the etiquette punctuality is not rigorously adhered to in Argentina. It is not considered rude to be 30 to 45 minutes late for a dinner invitation however this only applies if you are invited to dinner at someone's home not to a restaurant. In fact, more often than not it is the custom
It is also best to try and learn some Spanish phrases before going to Argentina, and becoming familiar with any of the varied regional pronunciations. In touristy areas, you can expect to find some people that may speak good English, but it is always best to be prepared by having learnt some key Spanish phrases to help you along. Being seen to make an effort would be regarded as good etiquette.
Language in Argentina
However, despite their reputation for reserve, the way in which you might be addressed by an Argentine may come across as quite direct or blunt. In sociable situations, don't be alarmed or surprised to hear what you might consider to be name-calling or swearing amongst friends. In this instance, political correctness certainly does not rule supreme, and Argentines might readily use phrases such as 'fat' or 'big balls' when talking to friends. No harm is meant, it's simply the culture and friendly banter!
Subject Matter of Conversation in Argentina
Argentina is by and large a Roman Catholic country, and whilst the chruch is clearly separate from the state, it's the custom that many socio-political views may adhere to this faith. As an outsider, you should never be outwardly critical of any beliefs or viewpoints, especially in regards to religion and past or present politics. Argentina also has a history of fighting some bitter wars, some of which are in living memory. It is considered very bad etiquette to bring up The Falkland Islands war in conversation. However, if for whatever reason you find that this subject has been broached, you should always refer to the islands by the Argentine name, 'Islas Malvinas'.
Football, dancing (especially the Tango), Argentine landscapes and theatre are all topics that may be met with enthusiasm. Buenos Aires is considered to be the cultural centre of Argentina, so discussing any of its popular tourist areas will prove to be good conversational material.
You might also like...