The Proper Etiquette In Paraguay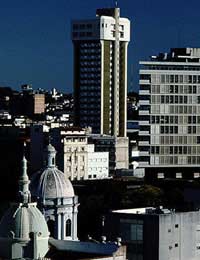 Paraguay is a landlocked country located in South America. Until only relatively recently has Paraguay become a democracy but despite this the nation still willingly remains fairly isolated, especially in the more rural communities. If travelling to Paraguay, to ensure a trouble-free stay you should be fully aware of the social customs and etiquette inherent to the people.
Family & Tradition In Paraguay
By nature, Paraguayans tend to be quite formal and conservative people, with family and traditions remaining as very important aspects of their social culture. Class and financial status is also very apparent in Paraguay, as the rich-poor divide is perhaps more pronounced here than with many other countries. However, respect towards others regardless of economic standing is of paramount importance here. When visiting Paraguay it is considered good etiquette to treat everyone that you meet with respect and dignity regardless of their position within the social hierarchy.
Family and extended family is an intrinsic part of Paraguayan culture. Family values tend to be conservative and you should be aware that family loyalty is extremely important. It is therefore vital that if meeting any family members of your Paraguayan counterpart, formality and manners should be upheld. This is because the general consensus of a family will rule over most personal opinions. The interest and judgment of the whole family dominates the culture and therefore making a good impression is a priority.
Despite being thought of as largely traditional and conservative, Paraguayans are also extremely warm, hospitable and affectionate people. However, when meeting someone in Paraguay, it is good etiquette to retain a formal approach and wait for your acquaintance to instigate any informality such as kissing and hugging. Handshakes between men and women are the preferred cultural choice of greeting, even if you are fairly well acquainted.
Body Language And Communication In Paraguay
The official language of Paraguay is Spanish, although due to the cultural heritage of the country, the native language of Guarani is also widely spoken. The combination language of Guarani and Spanish is known as 'Jopara'. You will not be expected to wholly understand Guarani or Jopara, although it is good etiquette and useful to learn some conversational Spanish before you embark on a trip to Paraguay.
Social hierarchy also does not denote how well one should dress – in Paraguay even those with relatively little income will make a concerted effort to appear well groomed in order to retain a respectful appearance. You should be aware that culturally you might be judged on your appearance, so always made an effort to dress well when in any public situation, however formal or informal. Dressing more modestly and conventionally is preferable, and makeup is popular with women.
Paraguayans also don't tend to conduct themselves in a forthright or boisterous way. It would therefore be thought of as proper etiquette to retain a degree of reserve and modesty. If you find yourself in disagreement with a Paraguayan, or have to deal with a frustrating or challenging matter, you should consider that shouting is regarded as very bad manners in Paraguay. Patience and tolerance are considered virtuous; therefore challenging situations should be dealt with calmly. Using a level, genteel tone is more appropriate than raising your voice.
Paraguayan Dining Etiquette
When dining out in Paraguay, etiquette dictate that you should make an extra effort with your dress and appearance. You should dress more formally – shorts, trainers and sportswear are definitely not appropriate.
If invited to a dinner party at the home of a Paraguayan, it is good manners to bring a gift to present to your host or hostess, and any children. As with many other Latin American countries, knives, scissors and other sharp implements should be avoided as gifts, as they represent the severing of a friendship. More appropriate gifts included flowers, chocolates or sweets for adults, and toys or sports equipment for the children. Anything representative of your home country or culture will also be received with much enthusiasm and interest.
At dinner, topics of conversation should veer away from political or religious discussions, unless initiated by your host. As an 'outsider', it would be seen as very bad etiquette for you to openly criticise the Paraguayan Government or military, and any of their policies.
Whilst you are eating, it is more than likely that you will be offered second helpings of food. It is considered good manners to graciously accept another helping. You should also be aware that it is polite to leave a little food on your plate once you have finished. This shows the host or hostess that you have been sufficiently fed and have not been left hungry.
Reader Comments
One reader made the following comment:
I can't think of one thing that defines Paraguay social behaviour more than the the sharing of the drink called Tereré. To be offered a drink is a sign of social acceptance and should not be declined.
Tereré is the ice cold version of maté (as drunk in Argentina).
You sit in a circle. One person will be designated "servidor" and will fill a gourd with leaves and cold water. This is passed to one person who drinks the gourd dry through the "bombilla", a metal straw that filters the leaves. Once dry the gourd is returned to the servidor who refills it with water and passes it to the next person. The gourd is passed around the circle until someone decides it's time to move on.
Also, in rural Paraguay, when passing people in the street it is good manners to say "Adios".
You might also like...