Etiquette in Indonesia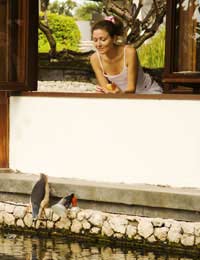 Indonesia is an archipelagic state located in South East Asia. Primarily an Islamic society, Indonesia also has a considerable population of those that follow the Hindu faith, as well as around 300 diverse ethnic groups. There is also a sizeable Chinese-Indonesian population, in which case Chinese customs and etiquette tends to be the norm. But generally, the social customs followed in Indonesia can be decidedly different to those of the Western world.
Saving Face
Indonesian society is very family-orientated, and so the concept of 'saving face', as well as respect and loyalty, is prevalent in the culture. Much of the population of Indonesia live in relatively rural locations, so contact with Westerners and an understanding of Western culture may be limited.
Whilst you may be used to openly airing your displeasure at certain circumstances, in Indonesia, this would be considered extremely disrespectful and bad etiquette. In the event that you are disgruntled or angry with a person, it is best to discuss the matter privately. This way you are allowing them to 'save face' and retain their dignity and honour amongst their peers.
Body Language & Communication
Both the Muslim and Hindu faiths somewhat abhor the use of the left hand. It is considered as 'unclean', so when shaking hands, offering a gift, eating or generally touching another person, it is considered proper etiquette to always use your right hand. You should also never touch the head of another adult, as it is commonly believed that the soul inhabits the head, and the head is therefore sacred.
The mainstream Indonesian culture is very conservative in its approach to public relations between men and women. Men should not openly make physical contact with women, and should only shake hands if the woman instigates it. A handshake between men is the a widespread form of formal greeting, and although in more familiar circumstances a pat on the shoulder might follow, it is best to err on the side of caution and only do this if your Indonesian counterpart initiates the gesture. You should always adopt a formal approach when addressing an Indonesian – usually Mr or Ms will suffice.
'Salam' is also a standard greeting between Muslims, and it would perhaps be considered polite to follow this form of salutation. Generally in Salam, the equivalent of the handshake is to proffer both hands and gently touch your counterpart's extended hands, before finally bringing one's hands back to the chest to demonstrate that you welcome from the heart. The greeted party will then reciprocate this gesture. Remember that it is good manners to always make sure that you acknowledge and greet the most senior person present first. It is also polite to formally greet a person with the phrase 'Selamat' – this literally translates as 'peace' and should never be used flippantly.
You should also be aware that showing the soles of your feet or shoes is also considered to be rude in Indonesia. When sitting, try to keep your feet pointed downwards or level on the floor. When in public, it is considered very bad etiquette to point with your left hand or right index finger. If you have to point, using your right thumb with the fingers folder under is preferred.
Dress Sense
When in Indonesia, by and large a conservative and modest dress sense should be adopted - especially by women. Skirt hemlines should fall below the knee and the shoulders should always be covered. Men should try to avoid wearing shorts, but generally, if on holiday, casual clothes such as open-necked shirts and trousers for men and modest t-shirts, skirts and dresses for women are perfectly acceptable.
It is acceptable for women to wear makeup, but it is best to adopt an understated or 'classic' look. For any business meetings, linen or light cotton smart suits are adequate, but bear in mind that business dress in more urban areas might be a little more conservative and formal. When a visit to a place of worship is organised, the proper dress etiquette for such places is of utmost importance. When entering a mosque, always remove your shoes. Women should cover their heads with a scarf – some mosques may provide these beforehand, but it is best to always come prepared. Likewise, removing shoes is also expected when visiting Hindu temples, with the toe of the shoe pointing to the outside from inside the entrance or lobby area.
You might also like...