Etiquette in Papua New Guinea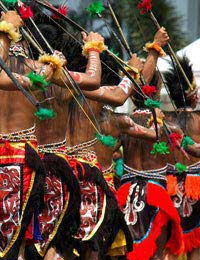 The Independent State of Papua New Guinea is located in the exotic South Pacific Ocean. The country itself is located on the eastern half of the island of New Guinea as well as occupying a number of islands and atolls. The tropical climate and coral reefs, unspoiled mountain ranges and rain forests have ensured Papua New Guinea's popularity as a favourable destination of holidaymakers that like to pursue activities such as trekking and scuba diving.
The dense forests and rugged terrain have meant that the many indigenous peoples that inhabited the islands prior to its colonisation remained fairly isolated from one another. In a contemporary climate, this means that there are still a highly significant number of diverse and well-established tribal communities, each with their own language and customs. This heterogeneous population is an extremely important element of the country's culture, and this is reflected in the policies put in place by the Government to protect such communities. However, recently there has been a rise in numbers of people migrating to the more urban and relatively heavily populated areas.
Language
There are upwards of 750 separate languages spoken throughout Papua New Guinea. English is taught in many schools and is spoken mostly by the educated, as well as being used in bureaucratic processes such as government, trade and commerce. It is most widely used in the Province of Milne Bay.
However, as integration between the disparate communities has become more widespread, the use of Pidgin English – also known as Melanesian Pidgin, 'Tok Pisin' or Neo-Melanesian – has become the lingua francas, and is now considered one of the official languages of Papua New Guinea. It was originally adopted as a means for islanders from different communities to unite in order to communicate more easily between themselves and any foreigners. When visiting Papua New Guinea, although English will be understood in many tourist areas, you should also make an effort to learn some basic Tok Pisin. Speaking at least some very basic conversational Pidgin will be seen as polite and good etiquette, and will be regarded as a sign of respect by many Papua New Guineans.
Greeting and Public Behaviour
In the more urban areas of Papua New Guinea, you might find that the more 'Westernised' residents will shake hands as a form of greeting. However, the clasping of hands is also widespread, as is grasping of the waist as a form of greeting. If you are invited to greet a chief or head of a village, it is customary and proper etiquette to bow before them. Not doing so would be thought of as extremely discourteous and ignorant.
Personal space is not much of an issue in Papua New Guinea. In shops and public spacing, crowding is not regarded as bad etiquette; moreover it is just normal practice and you should try not to make a fuss if you feel your personal space is inhibited. However, despite this, public displays of affection are seen as quite crude and should be avoided. You should also be aware that handholding between friends of the same sex is tolerated and quite normal behaviour.
Women and Society
In some more isolated villages, the interaction between men and women is not as common as you might expect. In some instances, communication between the sexes is restricted to those within a certain kinship or family group, and women in particular are prohibited from speaking outside of these groups. In some communities, even when married the men and women will sleep in separate buildings. It could be said that gender equality is not so widespread in Papua New Guinea, so in some cases female visitors may not always be treated with the equality and same amount of respect that they are used to. It is advisable that women should avoid travelling alone anywhere in Papua New Guinea.
Dining and Socialising
There are many restaurants offering international cuisine in the cities and urban areas of Papua New Guinea. Here, formal and modest dress is more appropriate. You should be aware that in Papua New Guinea, there is something that is known as 'Melanesian time'. This is because punctuality is not always considered to be of particular importance, and lateness and the impromptu invitation to other relations and wantoks (meaning 'one speak' - loosely translated meaning friends or associates that speak the same language) to dinner parties and social occasions is not uncommon.
If you are eating within one of the many chiefly communities, you should be aware that some food is set-aside for the chief and his family only. Many village communities will see hospitality as the epitome of proper etiquette, and if you are able to reciprocate the gesture in any way, this will be widely welcomed.
You might also like...