Business Etiquette When Travelling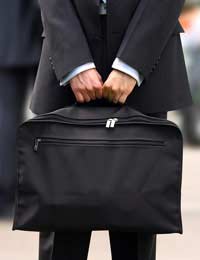 Largely thanks to the Internet, many businesses worldwide have embraced globalisation, and networking and trading between countries is now more widespread than perhaps at any time before in history. This means that now, a variety of cultures throughout the world are interacting more than ever. Although this exposure means that a lot of the business conducted between different cultures has tended to lean toward Western practices, business etiquette across the world is by no means completely standardised. Invariably there will be cultural differences, and the minutest cultural faux pas can be translated as unprofessional, rude and ignorant.
Good manners can make the difference between business success and failure. It can affect future business dealings, reputation and ultimately the outcome of a business deal. Therefore it's imperative when travelling abroad in business to be aware of the cultural differences between oneself and a foreign business counterpart. Etiquette is the crux of both business and any associated social dealings – assuming a level of cultural self-training is a great step towards successful business dealings in a global market.
But because there are so many different cultures, it would be difficult to summarise all varieties of business etiquette when travelling to countries with different cultural practices. However, this article attempts to cover some of the more common cultural differences in business etiquette practices when travelling.
Meeting And Greeting
They say that first impressions last, and this is no exception in business. In fact, where business etiquette is concerned, first impressions may be even more poignant than usual.
In most cases, if both business counterparts are male, then the accepted business etiquette is to shake hands on meeting. In some countries, such as China, a gentle handshake may be initiated, or replaced with a short bow from the shoulders. In Japan, this is also the case, but the bow comes from the waist, and the lower the bow, the more respect you are bestowing on your counterpart. It's always best to wait to see what your foreign equal initiates first if you're unsure.
In places such as Latin America and Europe, a firm handshake accompanied with a smile and direct eye contact is considered proper business greeting etiquette.
In parts of the Middle East and Asia, good manners include a gentle handshake followed with a greeting such as "salamu `alaykum" (peace be upon you). In Muslim countries across the world, whether Asia, Africa and the Middle East, you should never shake hands with your left hand, as it is considered unclean.
Who you greet first will also vary between cultures. In some instances, the most elderly or person in the group should be met and greeted first. In other instances, the most senior business contact will be addressed first. However, if you're in any doubt, the likelihood is that you'll be led by introduction by your host. When addressing someone in business, formality is the best bet; therefore it would be universally considered good manners to use formal titles such as Doctor, Mr, Director or Engineer if the title is known to you.
Meeting and greeting between men and women varies, depending on country and culture. In more Westernised cultures (Europe, Americas in particular), handshakes between men and women are generally undertaken. In some instances, a man will merely greet a woman, and handshakes will only take place if the woman offers her hand first. Eye contact between men and women should not be intense or prolonged as it could be interpreted as inappropriately assertive.
Dress Codes
As with general business etiquette, conservative is the way to go. A conservative business suit – darker colours, formal tie and jacket – for men is most acceptable in most, if not all, cultures. A well-cut suit speaks volumes, as in countries such as Argentina, being well-dressed is especially important with regards to respectability and an air of professionalism.
Women should opt for conventional business attire – in some more conservative countries, long sleeves and long skirts, and modest dress are a must. Again, in Latin America, Europe and the US, a well-cut, fitted suit together will be appropriate for women. It is also generally expected that women should look groomed, with hair and makeup often an important element of an overall 'look. However, in more conservative countries, women should opt for looser fitting clothes with bare or minimal make-up.
Table Manners & Dining
Table manners are an important aspect of business etiquette. This is because social interaction may be a key part of a business relationship. So, for instance, it is important to remember that in Muslim countries, one should never eat with the left hand, as it's considered unclean.
In some cultures such as Latin America, it is expected that a dinner party guest should arrive around 10-20 minutes after the stated start time – arriving too soon could come across as too keen or even greedy.
Remember that in countries such as China, Thailand, Singapore and Japan, acceptable table manners may be markedly different. For instance, in Japan there may be a strict protocol with the order that food is eaten, although allowances may be made if you are unfamiliar. You may be expected to eat with chopsticks, and in China in particular, slurping and speaking with your mouth full is not considered vulgar at all. In fact, in some countries, fervent burping is considered to show gratification! If you're at all unsure, try to take cues from your host or hostess.
Try to thoroughly research the customs and etiquette of the country that you are visiting. You may even be able to undertake a short course in business etiquette training if your company is linked to a foreign field office. Your efforts should be gratefully received by your business counterparts and hosts, making for smoother and successful business dealings.
Reader Comments
One of our readers made the following comment:
In Muslim countries all over the globe (Europe, Asia, Africa) the greeting "salaam alaykum" is used, I agree, but it certainly would not help you in Asian countries such as China, Eastern Russia or Southern India and could be frowned upon in Armenia and/or Lebanon (they're very proud about their Christian roots, and they fought the Muslim expansion for centuries). It could even get you into trouble in the only non-Muslim country of the Middle East, Israel.
You might also like...