Good Manners in Croatia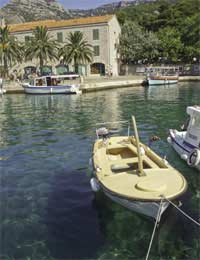 For many years Croatia was not a country that many would consider a tourist destination, perhaps in part due to the political troubles that affected the country in the early 1990s. However, since that time, Croatia has slowly but surely rightly received the recognition that such a beautiful country deserves. The stunning beaches lining the Adriatic sea, the thousands of islands, the culture of the old cities, and the rocky mountains, forests and lakes offer a plethora of holiday activity and destination opportunities.
If, like the other 10 million tourists a year, you're considering a visit to Croatia, whether on business or pleasure it would be a good idea to research and prepare yourself with an idea of what the Croatians consider good manners and good etiquette.
Meeting And Greeting
When meeting and greeting in Croatia, it's always best to adopt a conservative approach. This means that you should try to use formal or honorific titles on first introductions followed by the family name (surname),
Gospodin – Mr
Gospoda – Mrs
Gospodica – Miss
Never assume an informal approach such as using first names unless invited to do so. If you're worried about getting introductions wrong, the good news is that the likelihood is that your Croatian counterpart will take care of the introductions on your behalf first. However, if this doesn't happen, the best course of action is to introduce yourself to your party, beginning with introducing yourself to ladies first, followed by men. You should always wait for a woman to proffer her hand first before you shake hands in more formal meeting circumstances.
Extended family is important in Croatian culture, so if meeting any family members, always make sure to show the utmost respect, making sure to try and address the most senior people in the room first.
A firm handshake and eye contact is the norm on greeting; good manners in Croatian cultures tends to stipulate that the handshake should be accompanied by the appropriate salutation for the time of day,
"Dobro jutro" – Good morning
"Dobar dan" – Good day
"Dobra vecer" – Good evening
As with most Western culture, more intimate and social situations between friends, handshakes tend to be replaced by hugs, embracing or slacker handshakes. However, you should only ever take this approach if initiated by your Croatian host and counterpart.
Time Keeping And Discussion
In Croatian culture, it is very important when meeting to pay particular attention to your time-keeping skills. It is considered good manners, whether attending a business meeting or social lunch to be punctual.
Croatians are also quite direct and clear in the way in which they communicate, and will appreciate your efforts to do the same. However, it is also important to retain a certain degree of diplomacy, tact and subtlety too. You should bear in mind that Croatians tend to be very proud of their country, so any political discussions should be entered upon with extreme care, as offence may inadvertently made be caused if the subject is approached in the wrong way.
You might also like...