Etiquette in Spain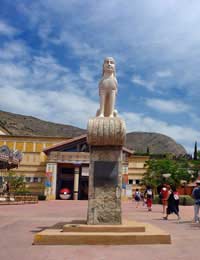 The country of Spain is both a culturally and geographically rich and varied place. It has a relatively long history of being a favourite holiday destination due in part to its colourful culture, excellent weather and climate, distinctive cuisine and many miles of fantastic coastline.
Regional Differences
It is fair to say that there is less of a 'generic' Spanish identity; moreover there are a collection of regional identities that fall under the cultural umbrella of Spanish life. Each region has many unique distinctions between their own traditions, language and customs.
The different characteristics of each region of Spain should be a major consideration, as the Spanish people are very proud of their heritage, be it on a community, town, regional or country level.
Although Spanish is spoken by just under three quarters of the country, a significant population of regional languages are also spoken. The Spanish Basque country, Euskadi, is one such region. The regions of Catalonia and the Balearic islands, Galicia and Valencia also have their own languages, Catalan, Galician and Valencian respectively. As a holidaymaker you should always make sure that you not only learn Spanish (also known as Castilian), but are also aware of the various proper regional linguistic variations. This will no doubt help endear you to locals and help to promote you as a well-informed and respectful visitor.
Dress, Appearance and Pride
Although fairly emotive people, Spaniards are actually quite conservative and modest in the way in which they choose to dress. The importance of one's appearance is important to the Spanish. Although they value education, achievement, social and financial status, they regard flaunting and showing off as quite vulgar behaviour. Spaniards tend to opt for understated pride where there is more of a quiet recognition of respect and achievement.
And so this applies to the mode of dress – Spaniards will dress well for even fairly casual engagements and social occasions. To appear well groomed and elegant is to have respect for oneself, and as a visitor it would be polite and good etiquette to subscribe to this same viewpoint. Remember that you will be judged first and foremost on your appearance.
Family and Society
Spain was once known as being a patriarchal and family orientated society, where machismo behaviour was once commonplace. Both of these aspects of society are now not so widespread, and equality is much more apparent than it once was. However there are still some societal situations where machismo may become more apparent - particularly with regard to 'saving face' where men are concerned.
Saving face basically describes the pursuit of retaining honour, respect and dignity in everyday situations. Losing face can be damaging to both your public and family image. Therefore you should avoid any public confrontation with a Spaniard, as this would be construed as disrespectful and very bad manners. You could also been seen as 'losing face' yourself. Saving face may also be a consideration when a Spaniard doesn't fully understand something – they will not want to publicly admit this and so will carry on regardless. The best indication that something is not understood is body language, rather than what is being said.
Meetings and Introductions
Interpersonal relationships are very important to Spaniards, and there is a strong emphasis on respect for elders. So when meeting or introducing yourself for the first time to a Spaniard, you should make sure that you follow the proper meeting etiquette.
Handshakes can be offered to all present – including any children. Make sure that you greet the oldest people present first. However if you are familiar with your Spanish counterparts you can expect a kiss on both cheeks, left to right, or hugging from a woman and a short embrace or pat on the back or arms between men. You may find that once a firm friendship has been established, Spaniards are much less reserved and more engaging. Personal space is also much closer in Spain than many countries – people will often stand close together when chatting or in serious discussion.
Although you may often refer to your Spanish counterparts as Senor or Senora, you will also hear the formal titles of Don and Dona being used. In some Latin American countries these terms are reserved for nobility but this is not always the case in Spain.
You might also like...