Etiquette in Japan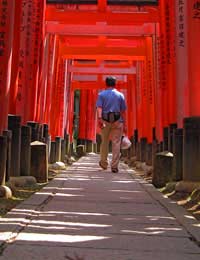 In comparison to the relatively 'straightforward' basic rules of Western etiquette Japanese social customs may appear complex and intricately woven into complicated social hierarchies. Whilst it would be difficult to succinctly cover all aspects of Japanese etiquette, when travelling to this striking and culturally rich country, you should at least be aware of some very basic rules of etiquette to help you to retain a respectful social standing during your stay.
You should understand that first and foremost, Japanese society is ruled by stringent codes of behaviour, and these should be respected. Age, seniority, honour and understanding the subtext of what people are saying are some of the most important aspects of Japanese culture. Respecting these few rudimentary points will greatly help you integrate into the social order.
Bowing & Introductions
The standard form of greeting in Japan is to bow from the waist – generally, the lower you bow, the more respect that is being demonstrated toward your Japanese acquaintance. You may find that a handshake is offered, but this depends on how 'Westernised' your Japanese associate is. There may be some hesitancy as to whether a handshake should be offered, so in these circumstances it might be good manners to offer a bow.
In most formal and social situations, you should refer to and address Japanese people by their title - whether it is Mr, Mrs or Miss, or professional title such as Dr. – and their surname. Personal space is a great consideration in Japan, so try and keep a good three or four foot away from your acquaintance. Make sure that you do not to retain too much prolonged eye contact, as this is seen as bad etiquette. Your eye line should fall slightly below the head to the neckline of your counterpart instead.
If you are invited to sit down, make sure that your feet don't directly point at anyone, as this can be perceived as very offensive. Keep the soles of your shoes or feet flat against the floor. Verbal communication is Japan is sometimes seemingly complex, as meanings can be hidden or embedded in what is being said. You should understand that Japanese people are not direct talkers as it is considered too crass. You may also find that your conversations are punctuated with drawn out silences whilst they are considering all that is being said, and any hidden meanings.
Saving Face
Honour and saving or giving face is another important aspect of Japanese culture. The Japanese are notoriously humble and modest people, and respect this kind of humility in others. Never, ever publicly disgrace or humiliate someone in Japan. This kind of dishonour will only serve to humiliate and shame both you and the your target of ill feeling. When making introductions, commenting on family or business and suchlike, you should do so with the utmost formal cordiality, as politeness and respect is highly valued. However, be aware that emotive gushing and overly sentimental behaviour may prove quite embarrassing for your Japanese acquaintances.
Japanese Home Visits & Dining
You may be invited into the home of a Japanese friend or acquaintance for a meal. You should be aware that this might be quite a formal affair, so dressing modestly and appropriately is expected. Although there are many protocols to follow in regards to how certain foods are eaten and in which order, your Japanese counterpart will hopefully make allowances for the fact that you might not be familiar with such customs.
You can bring a gift for your host or hostess, but this is usually presented at the end of a visit. Also bear in mind that anything in given in even numbers, especially in fours, will be thought of as extremely unlucky. Be modest about what you are giving, and make sure to present the gift with both hands. Pens, pencils and English slogan t-shirts all make popular gifts.
When entering a Japanese house, you should remove your shoes at the entrance to the home. You may be given some slippers to wear, but just wearing your socks is also acceptable. However, make sure that you never walk on a tatami mat with slippers on. In many homes, you will sit at a low table with cushions, rather than up at a table. Remember that when you are seated you shouldn't point your feet at anyone.
You will most probably have to use chopsticks, so you should make sure that you acquaint yourself with the proper way to use these implements. During the meal, you may share your dishes with other dinner party members. This is quite common practice, and you should be aware that it is considered bad etiquette to share food with the 'used' end of your chopsticks. Unlike other Asian countries, burping at the table is considered vulgar, but slurping your food is not. Make sure that you don't stick your chopsticks upright in your food at any time during the meal, and when eating, never talk or laugh with your mouth open. Also, blowing your nose publicly, especially at the dinner table, is considered to be extremely bad etiquette.
Reader CommentsThe following comment was made by one of our readers:
Meishi name cards - when offered a meishi, one should always accept it with two hands, examine it carefully, and then put in either a case or an inner pocket. You should not write on the card, bend or fold it, or otherwise abuse it— you would be symbolically abusing your contact!
You might also like...