Etiquette in Malaysia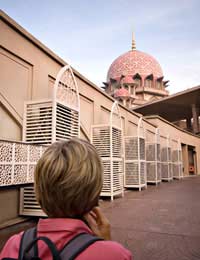 Malaysia is a country located in South East Asia split into two areas – the populous peninsula, and the more remote states of Sarawak and Sabah located on the island of Borneo alongside Brunei and Indonesia. Malaysia retains close ties with its geographical neighbours, and as such it has become a very diverse, multi-cultural society. The three largest ethnic groups are the Malays, Indians and Chinese, each with their own distinguishing social customs and religious practices.
Malaysia is recognised as a Muslim state, however due to the sizeable Hindu, Buddhist and Christian populations, it has become a cultural melting pot. It could be said that these groups tend to be fairly secular with their own deep-rooted communities. So taking this into account, when planning a trip to Malaysia you should be prepared to educate yourself on the main cultural differences between the ethnic groups, as well as the more general Malaysian social customs.
In Muslim areas the 'call of prayer' from the mosques are treated with high respect. This happens 5 times a day everyday. So if you are in the neighbourhood of a mosque take note of this important religious etiquette. The call of prayer is only for a few minutes each time and Muslims will lower their voice or stop talking completely.
When in Public
Across the board, Malaysians tend to be fairly conservative in their approach to their social customs and practices. You should respect any formal hierarchy or seniority that becomes evident to you. Family is central to Malaysian life, and as such elders and particularly senior family members should be treated with honour and esteem. It is not uncommon to see younger people bowing their heads as a sign of respect when passing by an older person.Challenging a figure of authority, in public, would be regarded as completely improper etiquette, and would most likely render you utterly disrespectful and dishonourable in the eyes of your Malaysian counterparts.
Generally, any open display of anger or outrage, however well deserved in your eyes, would also be met with disdain. Saving face is an important element of social conduct in Malaysia. You should always try and conduct yourself with integrity in order not to 'lose face' yourself, or if in a disagreement, 'give face' to allow your Malaysian counterpart to retain their dignity. The best way to resolve a disagreement or to challenge someone is to retain composure. Malaysians by nature tend to be quite relaxed, calm and humble people, and you should adopt this very attitude when in Malaysia. So when in a difficult and taxing situation, as privately and subtly as possible, you should firmly state what your grievances are. The likelihood is that your Malaysian counterpart will seek to resolve any quandaries if they are treated with this level of respect.
You should also consider that any public displays of affection are not tolerated, especially when travelling on the eastern coast of Malaysia. Here, it is generally felt that men and women should retain a respectable distance between each other when in public.
Dining Out and Eating In
Malaysians will often eat out at restaurants, and if you choose to join them, you should be mindful that eating with your left hand is very bad etiquette. This is because the left hand is reserved for more 'crude' bathroom-related purposes, so to be seen eating with your left hand would be thought of as dirty and uncouth.
In many restaurants it is perfectly acceptable to eat with your fingers (remember – right hand only), but you should take a quick cursory glance around you to see if your Malaysian counterparts are already doing this before you dive in.
If invited into a Malaysian family home for dinner, it is customary to always bring a small gift for your host or hostess. Any food or beverages would be gratefully received, and a souvenir from your home country would also be met with much gratitude. Remember that you should offer your gift with your right hand – likewise any gifts that you receive should be taken with your right hand.
Make sure that you dress well, and greet your hosts with a handshake, followed by placing your right hand over your heart. When entering a Malaysian house, you should be aware that it might be expected that you remove your shoes. A swift glance at your host's and other guest's feet will reveal whether this is indeed the case! Another giveaway is if there are shoes already placed in the lobby or entrance to the house.
You might also like...