Business Travel Etiquette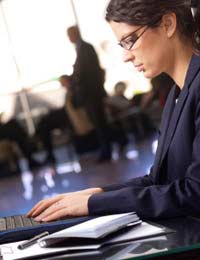 Dream jobs are generally considered to involve travel of some kind. This could involve a daily commute by train, regular trips up and down the motorway or long-haul flights to a sunnier destination. Failure to maintain high business standards at all times could impact on your career in a negative manner. Therefore whatever the location, and reason, for a business trip may be you will want to create a good, professional impression on everyone you meet on the way.
Customs And Cultures
Foreign business travel offers the opportunity to explore different cultures and customs and to create productive business relationships. It also provides many potential stumbling blocks, so a little bit of research is recommended before travelling to even a frequently visited destination. Understanding what is expected of you, in a variety of professional situations, will also stand you in good stead and help you overcome any difficulties.
Exchanging business cards is considered a mark of respect in most countries and provides an ideal ice-breaker, although you must remember to accept the card graciously and to handle it respectfully.
Comfort Zone
When travelling for business,maintaining a smart, polished appearance may not be necessary for the whole duration of your trip. Checking dress code for specific events, conferences and meetings you may be attending is recommended. Ensure you wear suitable attire in darker colours that reflect the nature of the business you work in, but also pack a number of smart, casual items of clothing that you can wear during personal relaxation time.
Colleague Confidentiality
If you are travelling with a work colleague or boss there may be an opportunity to share thoughts and feelings of a more personal nature than you are used to sharing in the workplace during office hours. Although the mood may be less formal it is worth remembering that your working relationship will continue in the same manner once you return from the business trip. Therefore keeping your discussions, and the content of your conversations, confidential is of utmost importance.
Business Gifts
Sending a follow-up thank you note to the individual or organisation that looked after you on your business trip is a gesture that will be remembered in a favourable way for a long time. It will also help you to maintain a friendly working relationship and good communication.
Giving small gifts, such as a pen or commemorative item, may be appropriate at the end of a business deal or as a thank you for services provided by colleagues. Inviting your host out to dinner and/or the theatre also shows appreciation.
Business Success Entertaining
In order to maintain the best professional impression you will have to follow business entertaining etiquette which may occur in less formal surroundings. Business lunches can provide a productive opportunity to exchange information, ideas and to secure a deal, and you must take the lead from your host. Lengthy lunches, breakfast meetings or informal after-hours drinks each offer an opportunity to follow business etiquette rules that can potentially enhance your career and professional reputation.
You might also like...