Train Travel Etiquette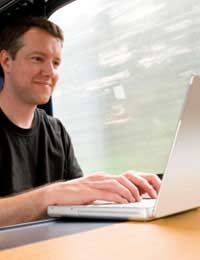 Trains are a popular transportation option for commuters, day trippers and now even for international travellers. Yet not everyone who takes a train understands the intricacies of train travel etiquette: seating; using technology; dining; moving and sleeping on trains all come with certain established norms for courteous train travel. Being well-versed in train travel etiquette is essential for frequent train passengers whether they have a short commute or a cross-continental itinerary.
Seating On Trains
Some trains allow passengers to select and reserve seats. When this is the case passengers should sit in their assigned seats and produce their tickets, clearly indicating their seat assignments, when requested. If there is no option for booking a seat then a train passenger should sit when spaces are available (to minimise obstructions in aisles) or move as far down aisles as safely possible if (s)he must stand (to allow more room for entering and exiting passengers). Passengers who are seated should try to avoid seats saved for passengers with disabilities or mobility problems, including older adults and pregnant women. Even if passengers are not seated in these seats it is polite to give up a seat and stand in order to allow those with disabilities, older adults and pregnant women to sit instead. Parents with young children will usually also appreciate being given a seat on a crowded train. It is also polite for passengers who are travelling alone to move seats to allow families to travel together if this can be accomplished quickly and easily.
Using Technology on Trains
Using technology on trains can be a double-edged sword. Most train passengers enjoy such distractions during their trips but no one enjoys being disturbed by other passengers using technology. Mobile phones in particular can be annoying to train passengers. When mobile phones are used on trains it is polite to limit the volume of rings and alerts or to silence the phone altogether. Conversations should be kept brief and voice volume should remain low. If there's a 'no mobile' sign up (a mobile phone with a line through it), it means that the whole carriage is a mobile silent zone. The volume levels of other technology, including music players, games consoles and computers should be minimised as well and headphones should be worn at all times so that other passengers are not disturbed. No passenger should monopolise a table with a bulky laptop if it can be avoided. It is polite to ensure that all entertainment brought on board a train is family friendly and would be safe for general viewing.
Dining on Trains
Many trains offer a dining service on board. General dining etiquette should be employed in dining cars and alcohol, if served, should be consumed in moderation. Trolleys may also serve a more limited selection of sandwiches and snacks and all train travellers should give way to such trolleys if encountered in the aisles. Waste should be disposed of properly. Some passengers may also prefer to bring their own food on board trains. Such food should be easy to eat, not emit a heavy odour, require no special preparation and be repackaged and disposed of quickly when eating is finished. Some train companies may also have rules regulating the types of foods that may be brought on board. These rules should be followed at all times.
Moving Throughout Trains
Many travellers prefer trains because they can move about the carriages during their trips. However, train travel etiquette dictates that all passengers attempt to keep aisles as clear as possible. Baggage should be safely stowed, conversations should be taken to social zones or lounge carriages rather than the aisles and children should be taught to walk rather than run through open spaces. When many passengers are in the aisles together, those carrying baggage, children or food should be given priority to pass. All passengers who move about train carriages should wear proper footwear.
Sleeping On Trains
Sleeping cars usually offer limited space, so passengers should be aware that when one passenger is standing in a sleeping car the others should remain on their bunks. Passengers who pull closed the curtains on their bunks should not be disturbed. All passengers should take short showers and confine their personal hygiene to the restrooms and proper clothing and footwear should be worn at all times when passengers are moving about general carriages. Modest nightwear should be worn in sleeping carriages and passengers should not disturbed those who are sleeping regardless of the time of day or night. If passengers become suspicious or uncomfortable with others in sleeping carriages then a member of staff should be alerted.
Train travel etiquette should be observed so that all passengers can have the most comfortable journey possible. Observing proper etiquette regarding seating, using technology, dining, moving and sleeping on trains will help ensure that everyone on board enjoys their next train trip.
You might also like...