Etiquette in Barbados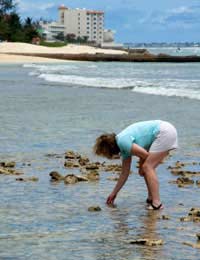 Barbados is a famous world-class Caribbean island favoured by many holidaymakers for its beautiful and exotic beaches, flora and fauna. Barbados is an individual state member of the Commonwealth, and today it still retains many of the customs and general rules of etiquette from this British association.
Technically, a citizen of Barbados should be referred to as a 'Barbadian'. However, whilst on the island you may come across the more common colloquial version of this word, known as 'Bajan'.
Good Manners
In line with the British influence, Bajans favour a more formal approach to greeting and meeting. This is most commonly a handshake between both sexes, followed by a salutation such as 'good evening' or 'pleased to meet you'. You should be aware that hugging and kissing is generally reserved for friends and family only.
When introducing or referring to a Bajan, unless a close acquaintance or family, you should always use a title and surname. Using first names, especially if you have don't have a personal connection to the person in question, could be considered as too casual and quite impolite.
It is considered good etiquette to introduce yourself first to a Bajan, rather than relying on them or a third party to make any introductions. It is also seen as good manners to readily acknowledge service providers, such as bar staff, shop assistants or hoteliers. You should also make an effort to acknowledge anyone that you might pass on the street – obviously if you are in a crowded place, this would prove quite difficult! But in a relatively quiet, unpopulated location it would be rude not to greet any passers by.
When taking public transport in Barbados, you should still follow the general rules of etiquette – for instance, always say please and thank you. It should go without saying that you should be prepared to give up your seat for any pregnant women, the elderly, disabled, or mothers will infants or toddlers. Be aware that generally, it is good manners to leave a few seats closest to the bus doors empty, for those that will definitely need them.
Dress Codes
Bajans have absolutely no objections to beachwear, but be aware that it should only be worn on the beach. If you are invited to a social event, however informal and despite any proximity to a beach, you should always dress appropriately – casual wear is fine. Also, it is thought to be bad etiquette to don beachwear for shopping or tourist excursions, eating out during the day or night, or when entering places such as a hospital or bank. If you are planning on taking a specialist trip that involves swimming, it is fine to wear your swimwear underneath any normal casual attire.
You should be mindful that nudity and going topless on a beach is frowned upon and actually an illegal activity in Barbados. Although in more secluded areas you might be able to partake in a spot of nude or semi-nude sunbathing, generally it is best to avoid it for the sake of not offending any locals.
During the day, it is fine to wear casual clothes or sports wear. Do not wear any clothes that bare resemblance to military attire (if seen wearing military clothing you will be stopped), or feature any crass or gratuitous slogans or imagery. During the evening, it is perhaps best to dress a little more conservatively, especially if dining out. Some restaurants will require you to adhere to a strict dress code, so it is always worth checking this before you arrive. However, generally a tropical-weight suit and a short-sleeved shirt, or trousers and shirt, is fine evening attire for a man. A dress, or skirt with a casual top would be more than appropriate for a woman.
Tipping
In many Barbadian establishments, you may find that a 10-15% service charge has been automatically added to your bill. However, if you are pleased with your service, you can always tip your waiter or waitress accordingly. In some restaurants, any tips you give will be added to other tips earned during the night, and then divided between the staff. However, if you want to tip just the one waiter or waitress for their exceptional service, it is best to take a prudent approach and tip individuals discreetly.
You might also like...