Etiquette in Jamaica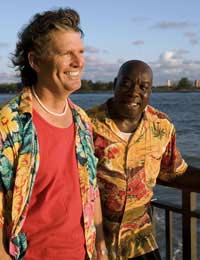 It is no wonder that Jamaica is a popular holiday destination what with its many beautiful beaches and tropical climate. Jamaicans are also notoriously polite but relaxed people with an easygoing attitude that filters down into their way of life.
Saying 'please', 'thank you' and 'excuse me' will go a long way in Jamaica; as such pleasantries and politeness are admired. With its relatively close proximity to the USA, and close historic colonial ties to Britain, Jamaica is a country that employs most aspects of generic 'Western' ideas of etiquette However, as with most countries; there may be a few variations in the local customs that you should be aware of.
Language
Jamaica is an English-speaking country and it is unlikely that you encounter any language problems with those that work within the hospitality and tourist industry. Be aware thought that many Jamaican citizens will speak patois (also known as Jamaican Creole), and this is where language may be an issue.
If you do not understand, just ask politely whether your counterpart could repeat himself. Never ask to be spoken to 'properly' – the patois is an important characteristic of Jamaican culture, and although English is the official language, any allusion to English being 'superior' would be extremely bad etiquette. However, the likelihood is that you will only come across a fusion of Jamaican patois and English, so you should be able to pick up the notion of what is being said.
Greetings!
You should always acknowledge a greeting by returning the greeting. When meeting someone for the first time, and in both social and formal circumstances, a firm handshake between men is the norm. Rather than retaining a 'stiff upper lip', a cheerful greeting such as 'how do you do' or 'good afternoon' will often endear you to your Jamaican host. At first, women may begin by greeting men and other women with a handshake. However, if a firm friendship and familiarity is established, a hug and kissing on the cheeks will usually replace such formalities.Until your Jamaican counterpart initiates the use of first names, always address people by using formal titles, such as Mr, Mrs, Dr, and suchlike. Moving too quickly to informalities may not always be appropriate and could be perceived as disrespectful.
In Jamaica, unless you are at a beach resort, you should avoid wearing revealing clothing. Shorts and miniskirts are not considered appropriate for women, so it is best to wear longer skirts and dresses. You may be aware of the way in which Rastafarians dress in Jamaica. They are not a tourist attraction, and you should not treat them as such – do not just begin blithely taking pictures of them. If you want to take a photograph of a Rastafarian – or any person in Jamaica for that matter - you should approach your subject and politely ask them if they would mind if you took a picture.
Socialising
Jamaica's social scene is varied and lively. Religion plays an important role in community, and many aspects of faith influence the customs and etiquette of Jamaicans. Although Jamaicans are vivacious people, a conservative approach is best when socialising. Outlandish behaviour and public displays of affection are not taken to well, and you should be aware that certain homosexual acts are actually illegal.
Sometimes there is a misconception about the drug use in Jamaica. Contrary to some popular but misguided beliefs, the smoking of marijuana is not a pastime undertaken by many Jamaicans. In fact, it is an illegal activity. Do not ever possess, buy, sell or carry drugs whilst in Jamaica. You will be committing a serious crime.
Caribbean and Jamaican cooking is widely known for its mix of tropical and spicy tastes. It is therefore no surprise that eating out is very popular in Jamaica. If choosing to dine out during your visit, although mostly informal, you should always try and follow the proper dining etiquette. Always use your utensils to eat, as eating with your hands could be seen as rather crass. You should also try to finish everything that has been served up to you, as leaving large amounts of food could be seen as an indicator of your distaste.
You might also like...