Etiquette in Cuba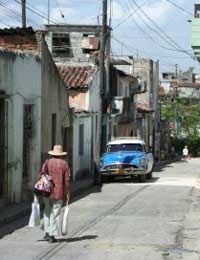 Cuba is the largest of the Caribbean islands and due to its many hundreds of miles of beautiful coastline and beaches; it is becoming an increasingly popular destination for tourists. It is particularly popular with Europeans and Canadians, and although Cuban customs and etiquette may generally adhere to 'Western' practices, to ensure a pleasant and enjoyable holiday, you should be aware of a few points.
Politics
It is perhaps apt to comment that Cuba is well known for it's political climate. Cuba is a socialist one-party state, and as such you should be aware that Cuban citizens have restrictions placed on their freedom of speech, and right to convene an assembly or association. As a tourist, it would be wise to distance yourself or completely avoid any political activity whilst in Cuba. Also be aware that whether in public or private, it is considered extremely bad etiquette to make any criticisms of the Cuban Government, particularly the Cuban leader, Fidel Castro. Any form of political disparagement should be considered taboo.
Making Acquaintances
The main language of Cuba is Spanish, although you will find that many that work within the hospitality industry will speak good English. Some may even speak many European languages. However, it is good manners to try and speak a little basic Spanish. Learning to say even the simplest phrases such as 'thank you' (gracias), and 'please' (por favor) will earn you some respect.
Cubans tend to be quite informal with their greetings, and may not use formal titles when forming a general acquaintance. However, at first perhaps it is best to use titles such as Doctor (doctor), or Engineer (Ingeniero), or simply Senor for a man and Senora for a woman. Your Cuban acquaintance will establish what titles and formalities can be dropped in favour of a more relaxed approach.
Dress in Cuba is also quite informal, partly due to the humid climate. Men will often wear short-sleeved cotton shirts and trousers. Men should avoid wearing shorts unless on the beach, and women would be best to opt for fairly modest attire when travelling inland, especially if visiting any religious sites.
It is also worth noting that a display of affection between same-sex couples is still not completely tolerated in Cuba.
Tipping and Gift Giving
Tipping is widespread in Cuba. In the past, US dollars were used to tip, but this has recently changed to using what are known as Convertible Cuban Pesos (CUC). These can be exchanged for US Dollars at airports, banks and hotels, at a ratio of 1:1.
Many Cuban workers rely on tips to supplement their basic income, so if you receive a good service, it is very good etiquette to tip accordingly. Some state-run large restaurants will include a 10% service charge, but it is good etiquette to tip your waiter or waitress separately. You can tip most people that provide a service, from resort gardeners, porters, hotel, bar and restaurant staff, bus and taxi drivers and tourist guides. If a Cuban – especially a taxi driver - gives you advice or direction on where to soclise or dine, they will see this as a commission and should be tipped.
Particularly in the hospitality industry, gift giving is an alternative option to tipping when in Cuba. When staying in a hotel, for instance it is good etiquette to leave the maid a selection of shampoos and personal care products. Due to their basic wage, such products are quite hard to come by in Cuba, and will be much appreciated. Similarly, at the end of your stay, or if visiting a Cuban's house, other gifts such as towels and linen will be well received, as will toys and sports equipment for children.
You might also like...