Etiquette Tips for Staying in Hotels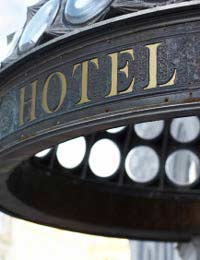 In much the same way that you most probably have house rules in your own home, there is a list of acceptable and unacceptable things you can do when staying in a hotel. Understanding and following these general etiquette tips will ensure you have an enjoyable, and trouble-free, break from your home environment.
Housekeeping Habits
Bed linen, bath towels and any other kind of frequently used item will quite likely be replaced on a daily basis. Staff will be on hand to clean up after you. However, do not be tempted to take advantage of this. Place all rubbish in the bin and aim to treat your hotel room like it is your own home. This includes keeping your own dirty laundry separate from the hotel's linen. Some hotels provide a clothes cleaning service and will list the appropriate action to take, in the guest handbook, if you wish to use this facility.
Whilst it is not obligatory to tip the person who changes your towels and makes your bed, a tip is always welcome. Do not however, wait to leave a tip on the last day of your stay, as you may well end up tipping a maid who hasn't actually been in your room before – as staff will probably work on a shift pattern basis. It is therefore best to leave a small tip each day.
Be a Gracious Guest
Just because you are paying to stay at the hotel it does not mean you have to make demands. Unless your room is dirty, untidy or unsuitable for your needs being a gracious guest means you can enjoy your break without getting stressed. If you ask for room service or additional pillows etc. do allow staff sufficient time to fulfill your request before making further demands.
The Company of Strangers
Many business travellers spend a large chunk of their time travelling from one hotel to another. Many businesses will frequently choose one hotel to cater for all the company's accommodation booking requirements. If staying in a hotel for business purposes it is not recommended that you use your room for business meetings – many hotels will have conference or business facilities that provide a far more suitable option.
Sharing your room with a member of the opposite sex – regardless of whether or not this person is a colleague – will damage your business credibility, so is also best avoided.
Room Service
If you want to enjoy the pleasure of having breakfast in bed make sure you put in your breakfast request the evening before. Most hotels will provide you with a breakfast order card, which you fill in and hang on the outside of your hotel room door. When your breakfast does arrive it is acceptable to greet the waiter in your robe, and to allow him/her to set up the meal for you.
Tips for Tips
It is customary to tip the porter who delivers your luggage to your hotel room. It is also courteous to tip other members of staff who tend to your requests. A tip shows appreciation for the service you have received so it is recommended that you show gratitude. However, as a verbal thank you can also sometimes be sufficient, it is important to make sure you offer a tip to a staff member who has run more than one errand for you, or who has been especially helpful.
You might also like...
Connie - Your Question:
I have been having a disagreement with my best friend and daughter. I say if you do not use all the coffee, soap, shampoo/ conditioner and lotions you can take it home they say its stealing. I really need to know who is correct. I will not do it again if it is but my thought it is included in my cost therefore it should be mine to do with l want.Thank you, Connie
---
Our Response:
We think hotels expect you to take toiletries home especially if you've opened them (who can use them after that anyway?) Most hotels draw the line at bathrobes and towels though...
TravelEtiquette
- 22-Jun-17 @ 2:14 PM
I have been having a disagreement with my best friend and daughter. I say if you do not use all the coffee, soap, shampoo/ conditioner and lotions you can take it home they say its stealing. I really need to know who is correct. I will not do it again if it is but my thought it is included in my cost therefore it should be mine to do with l want. Thank you,Connie
Connie
- 20-Jun-17 @ 4:33 PM